Spain to take action against short sales in Bankia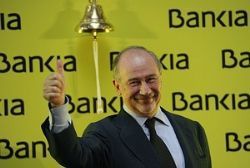 Spain's stock market regulator on Friday said it was ready to take action against a series of short sales in Bankia shares which took place when the bank hiked capital earlier this year to receive €18 bln in European funds.
Hundreds of thousands of small shareholders lost their savings in the near collapse of Bankia and the Comision Nacional del Mercado de Valores (CNMV) watchdog has faced criticism for failing to protect them, including with the dealings that took place in May.
While short-selling was legal, sources had told Reuters at the time that some investors who were forced to swap their hybrid debt and preference shares at a discount in the capital hike may have tried to compensate their losses by engaging in naked short-selling, which is banned in Europe.
While a short sale involves borrowing shares to sell, naked short-selling involves dealers selling stock they don't own in order to make a profit by hopefully buying it back at a lower price later.
Sanctions for breaking short-selling rules can include a withdrawal of the licence to operate in the market and heavy fines of up to 5 times the profits made in the sales.
The CNMV said in a statement that stock market supervisors in 7 countries where sellers were registered had cooperated in its probe into the sale of €41.38 Mln shares in Bankia.
In the days before a capital hike in May this year, sales of 4.1 million shares may have been illegal, according to watchdog, which carried out a six-month investigation into the dealings.
The CNMV declined to give any additional detail on the ongoing investigation because proceedings are confidential.
It took about 2 weeks to the shares to stabilise after the capital hike but they have since enjoyed a steady rise.
They closed 2.66% up at €1.12 on Friday and have gained about 32% in the last 3 months.
Bailed-out Bankia is to be reinstated in Spain's blue-chip IBEX-35 index from next Monday, a small but symbolic step in its recovery from near collapse in mid-2012.