Castellon Airport : Deadline For Potential Operator Bids Near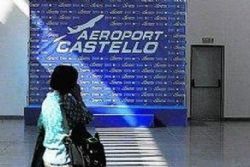 The deadline for the submission of bids for the operation of Castellon Airport is due to pass at 14:00 hours on Monday 23rd December.
The tender process began just 3 weeks ago the find a suitable contractor to operate and maintain the facility, with the process being opened up to any interested party who could make an offer in excess of €25 Mln (Plus IVA) for the privilege of assuming control of an airport that nobody has yet flown to, and that few consider viable in the long term.
However, the jury is still out on whether the Generalitat Valenciana - the owners of the airport - have played a stroke of genius or idiocy in ensuring that the duration of the contract will last just over 20 years.
It is also a condition of the tender that there is no opportunity to extend the contract beyond the duration stipulated.
The deadline for submissions to be received was originally set for 18:00 Hours on December 12th, however with just 1 week to go the decision was made to extend the deadline until the 23rd after a number of parties who had expressed an interest had requested more time to prepare a bid.
At the same time the board of Aerocas - the concession holders of the airport - agreed to fast-track the award of a contract to complete the final touches to the infrastructure, as stipulated in an inspection report of the Spanish Aviation Safety Agency (AESA).
Even though the cost of bringing the facility into a safe and useable condition came to €588,000 (which had not been budgeted for) Aerocas still managed to congratulate themselves for securing a 10% discount from the original quotation to complete the works.
Watch this space on Monday. The new operator will be sure to issue a statement to the press assuring us how numerous flights to various far-flung destinations are imminent.
Recommended Reading
• Several Companies Interested in Operating Castellon Airport