Spain's Two Lucky Towns In El Gordo Draw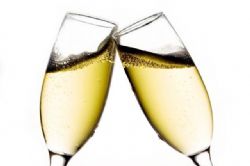 Lottery ticket-holders in two Spanish towns - a working-class suburb outside Madrid and a town recently hit by layoffs in the Basque country - were the big winners of the €640 Mln "El Gordo" Christmas draw on Sunday.
People who bought their tickets in the 2 towns took a combined €540 Mln of El Gordo, the top prize of a 200-year-old Christmas lottery that is a treasured tradition in Spain, with families, offices and bar regulars clubbing together to buy tickets.
Some €180 Mln went to the Basque town of Mondragon, the site of Spain's biggest consumer appliance company Fagor, which recently had to lay off more than 2,000 people as part of insolvency proceedings.
"I'm on cloud nine! I couldn't imagine something like this happening. We've been in the press for so many unpleasant reasons, and for something which brings such joy to happen here is a real support for the people," Jose Maria Garai, one of the officially designated ticket sellers in Mondragon, told Spanish television.
Another €360 Mln went to ticket holders in Leganes, a town of labourers and immigrants on the outskirts of the capital.
The Christmas lottery was designed in 1812 to allow as many people as possible to get a festive windfall. This year 160 "series", or versions, of the winning number were issued at 200 euros each, capable of being divided into 10ths - called "Decimos" of €20 each.
El Gordo, Spanish for "The Fat One", is the richest prize but there are thousands more, and the drawing takes hours. More than €2.2 Bln were doled out on Sunday.
This year for the first time the state will tax any winnings over €2,500 as part of austerity measures aimed at reducing one of the euro zone's highest public deficits.
The zone's fourth largest economy has been in and out of recession since a property bubble burst in 2008, leaving almost 6 million unemployed, gutting domestic demand and forcing the government to request billions of euros in European aid to bail out its banks.
Lottery spending fell more than 4% this year as Spaniards continue to feel the pinch of the 5 year economic slump.
Recommended Reading
• The Only Winner of Spain's 2013 El Gordo Lottery ?
• El Gordo's Lottery Tax Breakdown