Corvera Airport "Has Uncertain Future"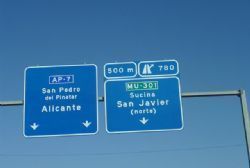 The spokesman for the UPyD in Murcia, Rafael Sanchez, commented last week how Corvera Airport "is a black hole under the shadow of President Valcárcel".
Sanchez made the comments during a business forum titled "Airports in the Air", in which the futures of Murcia's San Javier and Corvera Airports were discussed at length.
The delegates – which included a number of representatives from AENA – were told that Spain's current economic climate meant that Corvera "has an uncertain future".
Sanchez also went on to criticise the celebrations held by the PP last weekend, and attended by Prime Minister Mariano Rajoy, to pay tribute to Ramon Luis Valcarcel following his decision to step down as regional president early next year. "There is little for Murcia to celebrate" he told the gathering, before going on to explain that the Airport has indebted the region for future generations, despite having 2 airports within an 80km radius, and with the need for a further facility being under question.
Pedro Blaya, a representative of AENA, also addressed the forums explaining how Corvera Airport had been constructed using both public and private investment, but still needed to stay true to two basic principals : one being efficient financial performance, and the other in providing a valuable and reliable transport service to the public.
Both principals, Blaya commented "are not guaranteed at Corvera".
The AENA technician went on to say how the older facility at San Javier "gives a quality service that caters to an existing market, mostly foreign residents."
Blaya concluded that "San Javier is and will be the only profitable Airport in the region – done so without public funding".
Recommended Reading
• Murcia's President Valcarcel Resigns : Corvera Pressures Denied
• 1 Year Since San Javier Airport Will Not Close Tweet