Spain November Producer Prices Decline Most in Seven Months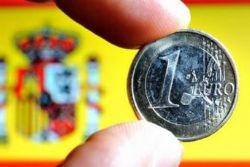 Spanish producer prices fell the most in seven months in November, led by declines in energy and consumer goods.
Prices at factory gates declined 0.9% from October, when they dropped a revised 0.5%, the National Statistics Institute said in an e-mailed statement. Prices slipped 0.6% compared with a year earlier.
The Spanish government is trying to drive down the cost of export goods to boost competitiveness as it looks to foreign demand to drag the economy out of a 5-year slump. Gross domestic product rose for the the first time since 2011 in Q3 and exports jumped an annual 8.3% in September.