Spain 'Sabotaging' Independent Scotland Referendum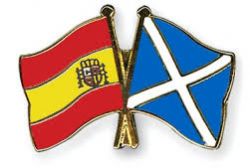 Two senior British civil servants were recently invited to Madrid by the Spanish PM Mariano to discuss Scotland's referendum for Independence.
Following on from Mariano Rajoy's comments to the press that Scotland could not remain in the EU following independence, Scotland's first Minister Alex Salmond has now suggested that the UK and Spain are working together to ensure that an Independent Scotland can never be.
The Spanish Prime Minister is concerned that the approval of an Independent Scotland would create a road-map for many of Spain's pro-Independence Regions, and that Scotland's swift entry into the EU would set a dangerous precedent.
Alex Salmond has therefore claimed that Spain is seemingly happy to play the hatchet man for UK PM David Cameron, and is being manipulated into sabotaging Scotland's referendum campaign.
The President of the European Council, Herman Van Rompuy, has also publicly shared the same opinion as Rajoy : that an Independent Scotland would not automatically assume EU membership, however Salmond's paranoiac tirade has not extended thus far.
Regardless of ones stance on the subject of an Independent Scotland, it must be worrying for many how a potential new head of state sees only conspiracy theories instead of the obvious : that Spain is simply interested in observing, and learning from the Independence process regardless of it's own political motives.
Recommended Reading
• Spain to veto EU membership of independent Scotland
• Catalonia to lose EU membership if split from Spain