Spain's Richest Man Buys €491 Mln London Property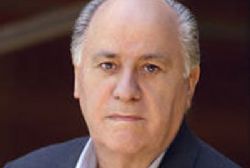 Amancio Ortega, the billionaire owner of clothing retailer Inditex, bought an office building in London's West End for £410 million / €491 million, a person with knowledge of the matter said.
Ortega's Ponte Gadea SL bought Devonshire House, a 1920s Mayfair district property opposite the Ritz hotel, from the estate of Lehman Brothers Holdings Inc., said the person, who asked not to be identified because the information is private. Joelle Halperin, a spokeswoman for Lehman Brothers, declined to comment. Ponte Gadea didn't respond to calls and an e-mail requesting comment.
Regulations protecting older buildings and preventing high-rise construction has created a shortage of office space in the West End, fueling rent increases. At €2'663 a square foot, the price is among the highest ever paid worldwide for an office building of at least 100,000 square feet on a per-square-foot basis, according to Real Capital Analytics Inc., a research firm that tracks commercial real estate sales.
"This is one of the most special locations on Earth," said Dan Fasulo, managing director at the New York-based company. "You could legitimately throw a stone to Buckingham Palace from there."
The area, which is popular with hedge funds and includes the luxury shopping locations Bond Street and Regent Street, replaced central Hong Kong as the world's most expensive property market, CBRE Group Inc. said on Dec. 18.
Amount Sought
Green Oak Real Estate Advisors LLP, an adviser to the Lehman estate, sought at least £390 million for the building, the person said. The building was marketed by brokerages Eastdil Secured LLC and London-based Strutt & Parker LLP, the person said.
Devonshire House's tenants include Bain Capital LLC and Noble Corp., according to the companies' websites.
Estates Gazette reported the purchase earlier today.
According to Fasulo, one comparable deal was the sale of 1 Grosvenor Square, also in the Mayfair district, which the Canadian government last month said it agreed to sell for €367 million to Indian developer Lodha Group. Canada said it plans to move its diplomatic offices out of the building.
Ortega is the world's 3rd-wealthiest person with a net worth of €47 billion, according to the Bloomberg Billionaires Index.
Given the price he paid, Ortega can be expected to consider a "multitude" of potentially more lucrative uses for the building, including residential units or a hotel, and adding to the property's retail space, Fasulo said.
"Even in London, where the office rents, at least in Mayfair, are much higher than Manhattan, the math would be tough to pencil out at that number if you were going to keep the building as a pure office building," he said. "At that pricing, you're basically parking your money."
Recommended Reading
• Spain's Richest Man Earns 16.7 Billion Euros in 2012