King's Xmas Speech Shunned by Catalan TV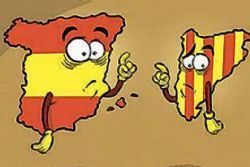 The king of Spain's traditional Christmas Eve address was not shown on Catalonia's public television for the first time in the broadcaster's 30-year history, highlighting growing separatist fervour in the wealthy north-eastern region.
Workers at the broadcaster went on a brief strike during the king's speech and other programming was aired instead. The official reason was to protest cost cuts and outsourcing of some production. Catalonia has clashed with the central government in Madrid over cuts on spending on public services.
In his address, King Juan Carlos did not directly discuss the issue of Catalan independence, but he appealed to Spaniards to unify and embrace their diversity as the country struggles to emerge from a deep five-year economic crisis that has left one in four workers out of a job.
The king said: "Together we have resolved problems even more difficult than the ones we face today and we've always aimed for the same common goal. Spain is a great nation that is worth fighting for."
Catalonia is home to 7.6 million people and produces about one-fifth of Spain's economic output. Its leader, Artur Mas of the centre-right CiU political alliance, is pushing for a referendum on November 9 next year on independence from Spain, two months after Scotland's independence referendum.
Spanish PM Mariano Rajoy says the Catalan plebiscite would be unconstitutional and has vowed to block it in Parliament and in the courts.
Mr Mas's referendum drive may prove a political dead end for him and his party. If the central government blocks the plebiscite, his coalition with radical independence party the Catalan Republican Left, or ERC, could fall apart.