Spain caps power prices, pledges fresh energy solution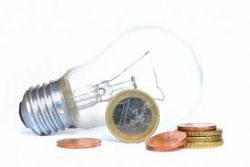 Spain's government decreed a 2.3% increase in electricity prices for the first quarter of 2014 and said it was working on a new formula for consumer power bills after several failed attempts to reform a distorted energy market.
Spain's electricity prices, already among the highest in Europe, came under fire last week after a controversial wholesale power auction that would have pushed consumer bills up by a painful 11% in the first 3 months of 2014.
The government annulled the Dec. 19 auction after competition watchdog CNMC found signs of "atypical circumstances."
In a decree on Friday the government set a 2.3% rise in electricity prices, including a liberalised base rate and regulated fees, for the first quarter of 2014.
PM Mariano Rajoy said the government was working to establish a definitive pricing mechanism for the 2nd quarter.
"We can't have the 3rd highest electricity prices in Europe because that makes it more difficult for Spanish companies to compete and is not good for creating jobs in our country," Rajoy said at a year-end news conference.
Spain recently emerged from 5 years of economic recession or stagnation but is still battling a sky-high unemployment rate of 26%.
Rajoy said the new pricing mechanism would be in line with a proposal by regulator CNMC to replace the use of wholesale power auctions with electricity futures prices as a benchmark for base rates that account for about 40% of consumers' bills.
The remaining 60% of bills is comprised of regulated fees, which Rajoy said would rise by 0.9% to help cover a growing tariff deficit in the electricity sector.
Spain's electricity tariff deficit, the result of a decade-long shortfall between revenues and system costs including renewable subsidies, has continued to grow despite a series of government reforms meant to close the gap.
The accumulated deficit will reach at least €30 billion in 2013 after the government withdrew €3.6 billion of funds it had pledged to help cover any additional deficit this year.
That decision preceded the controversial power auction last week.
Spain's biggest electricity utilities, including Endesa , Iberdrola and Gas Natural will have to hold the tariff debt on their balance sheets for the next 15 years, weighing on their credit ratings.
Recommended Reading
• Spanish watchdog plans 2014 power price rise below 3%
• Spain Gov't Opposes January's 10% Planned Electricity Hike
• Spain's Annuls Electricity Rate Hike Auction