Spain Ranks Regions by GDP Per Capita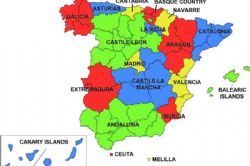 Figures released today by Spain's National Institute of Statistics has detailed the GDP per capita of the country's Autonomous Communities for the year 2012.
The Basque Country ranks in 1st place with a GDP per capita of €30,043, followed by Madrid in 2nd place with €28,906, and Navarre in 3rd place with €28,491.
Catalonia came in 4th place with €28,491.
However, despite having a GDP per capita of €28,491, the combined wealth generated by the 7.29 Million Catalans amounted to €192,535 million during 2012, down 0.7% on 2011.
For 2012 Catalonia accounted for 18.7% of Spain's wealth, compared to 18.6% in 2011.