No Bids Received in Ciudad Real Airport Sale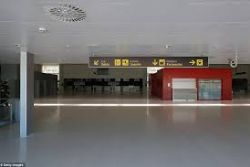 The deadline for the submissions of bids to own the rights to fly to Ciudad Real Airport, Castile-la-Mancha, officially passes at 09.00 Hrs on Monday 29th.
However, in practice, this means that any viable bid had to be received by the close of business on the preceding Friday - and that date passed without a single offer being made.
The bidding process to own and operate the facility - also known as Don Quixote Airport - officially began on 2nd December, with the private owners stipulating that bids below €100 Million and not secured with a 5% deposit would not be considered.
Although rumours of a number of 'interested parties' have been reported in the Spanish Press, nothing has as yet materialised, and is highly unlikely to do so before 09:00 on Monday.
If (or when) no buyer is found, the sales is expected to enter a second phase - this time being offered for starting bids of between €80 and €100 Million.
Should that prove unsuccessful a 3rd phase is likely, with there being no starting price for bids.
The owners of the facility declared Ciudad Real Airport bankrupt in June 2010, after only becoming operational in December 2008.
Spain's first privately owned airport has seemingly set the template for Corvera and Castellon Airports to follow.
Recommended Reading
• Spain's Ciudad Real Airport 6th Most Visited in World in 2013
• Sale of Spain's Ciudad Real Airport Underway