Maneuver to Prevent Extradition of Torturers Denounced in Spain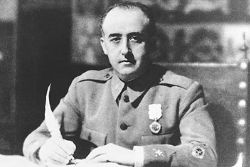 The intention to investigate alleged torturers during the dictatorship of Francisco Franco (1939-1975) in Spain aims to prevent their extradition, said the group that supports the lawsuit filed in Argentina to bring those criminals to justice. The State Coordinator to Support the Argentine Lawsuit against Crimes during the Franco Regime also demanded that the Prosecutor's Office, Spanish justice and the government comply with their international obligations.
A statement from the group says that Prosecutor Javier Zaragoza's statement on the possibility of trying former Inspector Juan Antonio Gonzalez (aka Billy the Kid) and ex Civil Guard Captain Jesus Muñecas is the result of a maneuver and not a wish for justice.
Zaragoza said that he was planning to request that the torturers be tried in Spain, as they are charged with crimes committed against Spanish citizens.
The Coordinator recalled that Argentina's lawsuit aims to demonstrate, both nationally and internationally, the impunity of the Franco regime and to encourge judges and prosecutors to investigate those crimes.
Recommended Reading
• UN Orders Spain to Investigate Civil War Crimes
• Spain Tells UN No Rethink on Post-Franco Amnesty