Castellon Airport : New Operator Could be Named Next Week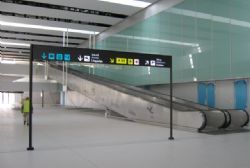 Further details of the 3 bids received for the operation and maintenance of Castellon Airport have been made public.
The concession holder of the facility - Aerocas - has intimated that the final contract could be awarded to the successful applicant before the Three Kings Fiesta on the 6th of January.
A statement released by Aerocas confirmed that the succesful operator will pay the concession holder a total of 25 Million Euros over a 20 year period , providing that passemnger numbers reach 1.2 Million per year.
The goal of all parties remains to have the facility operational before the summer season of 2014.
The 3 applicants are :
Lavalin
: A French-Canadian company, already managing Malta's airport.
Gesnaer : A Spanish airport consulting company specialising in Civil Aviation and aeronautics.
The 3rd applicant is an unnamed Swiss company who has submitted their bid through a Spanish intermediary.
Recommended Reading
• Three Bids Submitted For Operation of Castellon Airport
• Castellon Airport : Deadline for Potential Operator Bids Nears