Spain arrests 8 over global bank cyber heists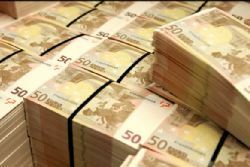 Spanish police on Sunday said they had arrested eight people suspected of helping to steal more than €60 Mln from banks worldwide by hacking into credit card processing firms and withdrawing money from cash machines.
The arrests are one of the biggest breakthroughs yet outside the United States in connection with a series of global bank heists, coordinated across numerous countries by cells which withdrew millions of dollars in a matter of hours.
Spanish police said in a statement they had detained 6 Romanian citizens and 2 Moroccans on the outskirts of Madrid, and seized €25,000 in cash as well as around 1,000 blank credit cards, IT material and jewels after several building searches.
The statement said the global hacking gang had been controlled by a single person, who had been arrested in Germany. The police could not be reached for comment on when the alleged mastermind had been detained.
German prosecutors said in May they had arrested two Dutch citizens suspected of taking part in a €32 million cyber heist involving 2 Middle Eastern banks.
Prosecutors in Duesseldorf could not immediately be reached for comment on Sunday.
The Spanish police statement said they had acted with the help of an unnamed U.S. security agency.
"The bulk of the organization based in Spain has been dismantled when it was starting to regroup to carry out an attack similar to previous ones, in various EU countries and including in Japan," the police said.
They said the ringleader was an IT expert who hacked into the databases used by credit card processing firms and could modify security settings, including PIN number restrictions and withdrawal limits, before getting cells worldwide to fake credit cards using some of the information.
The swiftness and scale of the heists was revealed earlier this year, when U.S. prosecutors arrested 7 men suspected of the Middle Eastern bank thefts.
Around €32 Million was stolen in several attacks using faked cards bearing the names of two banks, prosecutors said, with some €30 Million raided from ATMs in 24 countries in just over 10 hours in February.
Spanish police said on Sunday 446 withdrawals took place in Madrid during a February raid, with the Spanish-based arm of the ring obtaining €291,000 in a heist totaling €30 million. They did not confirm which banks had been involved.
Previous raids had involved withdrawals in other Spanish cities and global takings by the crime ring amounted to over €44 million, they said.
A further 6 people were arrested and charged in the USA in November in connection with the million Middle Eastern bank theft.