"Catalonia will not remain part of EU" : President Mas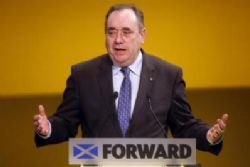 Italian daily La Repubblica has printed an interview with Catalan Premier Arturo Mas, where he agreed that the region would not automatically become an EU member state in the event of an independent Catalonia.
"I have given thought to the idea that in the initial moment between the referendum and the proclamation of the independence we could remain outside of Europe," Mas told the newspaper. "This would be a shame because we want to remain in the EU.
"We would need to find a transitional regime to avoid expulsion from the EU."
The President of Catalonia has called for a referendum into claiming Independence for the region in November 2014, despite the National Government of Spain declaring that such a measure would be illegal.
The comments are sure to cause concern to the pro-Independent first Minister of Scotland, Alex Salmond, who has previously stated how an Independent Scotland would be eligible to remain part of the EU.
The opinions of Herman Van Rompuy, the President of the European Commission, and EC President Jose Manuel Barroso, are aligned with that of President Mas.
Recommended Reading
• Spain Sabotaging Independent Scotland Referendum
• Spain Says NO as Catalonia Referendum Date Set
• Spain to Veto EU Membership of Independent Scotland