Spain Sees Another Casualty of the Crisis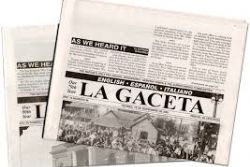 Yet another causality of Spain's prolonged Economic crisis was announced earlier today as national newspaper, 'La Gaceta' announced it would cease the paper-version of it's daily edition.
A spokesperson for the 60-strong workforce announced that the newspaper, which has been in circulations since 1989, issued it's last print run on Friday of last week.
La Gaceta began as right-wing leaning newspaper reporting on mainly economic issues almost 25 years ago before diversifying to report on mainstream news, shared throughout the Intereconomia Media Group, which also includes TV and Radio Stations.
Although the impact of job losses at La Gaceta is yet to be announced, the Madrid Press Association have reported that 284 different Media Companies and 11,151 jobs have now been lost in this sector alone since the start of the financial crisis in 2008.
La Gaceta are expected to continue with the publication of an on-line edition of the newspaper.