Unemployment across Southern Europe hits 15.6 Million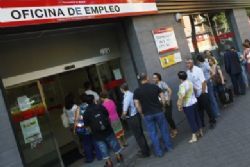 Unemployment in Spain, Portugal, Greece, Italy, and Ireland reached 15.6 Million by the end of 2013, according to reports by various unemployment organisations, who called into questions the accuracy of officially reported data.
The report compiled by the Ministry of Labour in Spain added that the data collected confirms that real unemployment rates exceeds official figures by around 2% because those who are not actively looking for a job, or are in part time positions are not included in the statistics.
It is claimed that the accurate figure stands at 15.6 million people, which means that the rate of unemployment across Southern Europe is placed at 24%.
According to the report, the policies of the Troika (European Central Bank, International Monetary Fund, and European Union) are risking the future of the Eurozone economies, as 700,000 young people have now left Spain in search of work, followed by 500,00 from Portugal and 400,000 from Ireland.
The various organisations go on to claim that government reports of a recovery are "a fraud", and that the capacity to sustain a recovery in the medium to long-term is a fraud.