Murcia Tourism Chief 'Positive About 2014" Despite Corvera & Paramount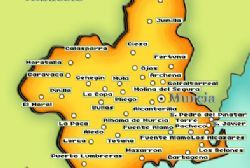 The President of the Federation of Hospitality and Tourism for the Region of Murica, (Hostemur), has said how 2013 "has not been bad at all", however despite visitor numbers being higher than 2012, profits are generally down by 20% due to the requirement for competitive pricing.
Soledad Diaz went on to tell Europa Press, "we expect that figure to improve in 2014, although profitability may continue to be weak for some time.
As a result Diaz maintained that the promotion of tourism within the region remains of critical importance, and that more can always be done given that there are so many other attractive destinations for tourists in Spain.
Diaz went on to say that overall he felt confident about the coming year, but agreed that positive news about the operation of Corvera Airport, and the arrival of the AVE high Speed rail network would have a significant impact on visitor numbers to the region.
He reiterated that Murcia has "a lot to offer" to that much more could be done to capitalise on this.
Although the situation with regards to the operation of Corvera International Airport remains to be confirmed with any certainty, news announced over recent weeks concerning the Paramount theme park is certainly positive. However, despite the award of numerous contracts to construct various phases of the project, the park is not expected to be open to the public as a tourist attraction until April 2016.
Recommended Reading
• 50% of Residents Oppose Corvera Airport
• Show of Confidence in Paramount Murcia
• A Leap Forward For Paramount Murcia