Carlos Fabra "Wants Nothing to do with Castellon Airport"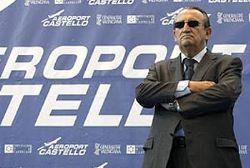 In a display of nothing more than childish belligerence, Carlos Fabra has commented how he "wants nothing more to do with Castellon Airport", and that he "Doesn't care" who takes control of the facility in the future.
The Former President of the Partido Popular for the Province of Castellon, resigned from his position as President of the concession holder of the airport - Aerocas - earlier this year.
Fabra was once the self-styled driving force behind the facility, even going as far to commission a 20mt high 25 tonne Bronze sculpture of himself on the approach to the airport.
Whilst the future of Castellon Airport is uncertain, news of which of the 3 applicants will be awarded the contract to operate the facility is expected to be announced in the next few weeks.
For his part, the once powerful former politician - sentenced in November to 4 years in Prison and a penalty of €1,400,000 by the Supreme Court of Valencia - has insisted he will appeal his conviction for fraud in the European court of human rights in Strasbourg.
Recommended Reading
• Castellon Airport Statue Abandoned
• Ex Chief of Castellon Airport Sentenced
• Castellon Airport : New Operator Could Be Named Next Week