Eurozone closes aid programme for Spain Banks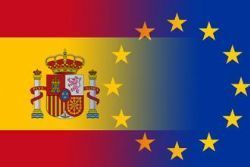 The eurozone aid programme for struggling Spanish banks closed today after giving €41 Bln to aid them through the debt crisis, a statement read.
The support "has proven instrumental in recapitalising and restructuring Spain's troubled banks, which are today on a sound footing," said Klaus Regling, head of the European Stability Mechanism, the fund set up to help eurozone countries at the height of the crisis.
"Spain's programme exit after one year is an impressive success story," Regling said in an ESM statement.
"Despite the challenges ahead I am confident that the ESM's support, combined with structural reforms, will allow the Spanish economy to achieve stability and substantial growth," he added.
In early 2012, it looked almost certain that Spain, crippled by banks over-exposed to a collapsed property market, would need a full international bailout as was the case for Greece, Ireland and Portugal earlier.
Madrid, however, refused to go down that path and instead managed to negotiate a deal with its eurozone partners worth up to €100 Bln in direct aid to fix the banks.
The ESM in the event needed only to pay out 41.3 billion euros as the Spanish economy, the fourth largest in the eurozone, stabilised despite massive problems and soaring unemployment. "Spain will not request any follow-up assistance from the ESM," the statement said.
Ireland has just exited its bailout programme, without seeking any credit-line safety net.
The Spanish "government's determined reform efforts and the people's readiness to accept temporary hardship for the sake of a sustainable recovery are exemplary," Regling said.
"The Spanish success shows that our strategy of providing temporary loans against strong conditionality is working."
If their situation has improved, Spain's banks remain under great pressure, with figures earlier this month showing bad loan levels running at their highest in 50 years.
Spain crawled out of recession in the third quarter but economists warn of threats to its recovery, chief among them a staggering unemployment rate of around 26%.