Spanish Inflation Stable in December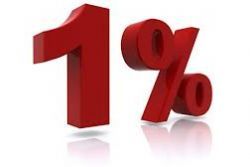 Consumer inflation in Spain remained stable during December, according to preliminary data on Friday which highlighted concern at continuing weakness in prices in the euro zone.
ECB President Mario Draghi said at the weekend that the ECB wanted to ensure that inflation in the euro zone did not drift into what he called a "danger zone" under 1.0%.
However, with Spain struggling to emerge from recession the data underlined the sickly state of its economy with consumer spending held back by growing unemployment and falling incomes.
Spain's National Statistics Institute (INE) reported that Spanish EU-harmonised consumer prices rose by 0.3% year-on-year in December, compared with a Reuters forecast of 0.4% and previous reading of 0.3%.
INE data also showed Spain's national consumer price index rose by 0.2% in December on an annual basis, the same rate as in the previous month.