Barcelona first club to reach 50 million Facebook fans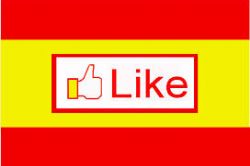 Barcelona have become the first sports club to reach 50 million followers on social networking website Facebook, the Spanish soccer champions said on Thursday.
Barca's Facebook page, which provides fans with photo and video content, has the most followers in Indonesia with 4.73 million, followed by Mexico (3.5 million), Brazil (2.5 million), United States (2.1 million) and Turkey (1.75 million), the club said on their website (www.fcbarcelona.es).
Cairo is the city with the most Barca followers with 746,000, followed by Mexico City (666,000), Jakarta (623,000), Lima (481,000) and Bogota (420,000).
"Being the first sports club in the world to reach 50 million Facebook fans is a source of pride and at the same time a responsibility towards our followers," said Didac Lee, a Barca director responsible for new technology.
"Barca is the world's most popular club and this is just the latest evidence of that," he added.
Barca said their Facebook page was among the 30 most followed overall, although they have some way to go to catch some of the world's more popular artists, including singer Rihanna on 82 million and rapper Eminem with just under 80 million.
Colombian pop diva Shakira, whose partner Gerard Pique plays for Barca and Spain, has almost 77 million followers.
Real Madrid are not far behind bitter rivals Barca with 46.7 million, while Real's Portugal forward Cristiano Ronaldo has nearly 69 million and Barca's Argentine World Player of the Year Lionel Messi 52 million.