Spanish Minister to visit Panama over Sacyr row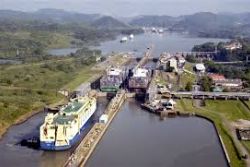 Spain's public works minister and the chairman of Spanish builder Sacyr will fly to Panama this weekend to help resolve a dispute over the cost of the expansion of the Panama Canal, Panama's President Ricardo Martinelli said on Friday.
Following a meeting with diplomats from Spain and Italy in Panama City, Martinelli also said that the governments of Panama, Spain and Italy are ready to work together to make sure the massive infrastructure project is completed.
The Spanish ambassador to Panama, Jesus Silva, said Sacyr still wants to see the expansion completed.
A building consortium behind the project - which includes Sacyr, Italy's Salini Impregilo, Belgium's Jan De Nul and Panama's Constructora Urbana - said earlier this week that €1.2 billion in cost overruns on the €2.4 billion plan to build a third set of locks for the canal should be met by Panama.
Recommended Reading
• Former Corvera Airport Contractor Suffers Further Setback
• Panama Presses Spain and Italy to Resolve Canal Cost Row