Third Regional President Opposes PP Abortion Reform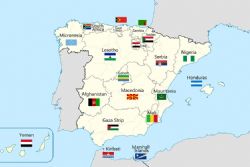 A day before the Partido Popular's top officials were due to hold their first meeting of the year, a third PP "baron" on Tuesday came out against the government's proposed controversial changes to the abortion law, which indicates growing rifts inside the ruling party.
Juan Vicente Herrera, the regional premier in Castilla y León, said that the government should wait until the Constitutional Court rules on a challenge the PP filed on the current abortion law soon after it was passed in 2010 under the previous Socialist government.
Herrera joins the ranks of his colleagues, Extremadura premier José Antonio Monago, and Galician premier Alberto Núñez Feijóo, in calling on the Rajoy government for restraint.
"Maybe, as with other issues, interests and opportunities can be accomplished if we wait for the Constitutional Court's opinion and ruling," Herrera said.
The Castilla y León premier also called on his party colleagues "to listen to the reasonable and responsible opinions" issued by the PP mayors of Zamora and Valladolid, Rosa Valdeón and Javier León de la Riva, who have expressed their "concerns" about the negative opinions the abortion legislation is drawing from their constituents.
On Wednesday, PM Mariano Rajoy is expected to preside over the PP national executive committee's first meeting of the year, where the abortion issue is expected to be a hot topic.
Justice Minister Alberto Ruiz-Gallardón's plan to restrict the opportunities for women in Spain to undergo the procedure has come under fierce criticism from human rights organizations, health experts, opposition parties and international groups. The bill, which was approved by the Cabinet last month and will go to Congress in the coming weeks, proposes that women will only be able to obtain an abortion under two instances: in cases of rape and if the birth poses serious health risks to the mother.
Under the current law, women can undergo an abortion on demand and without any questions asked up to their 14th week of pregnancy.
Recommended Reading
• Senior PP Officials Criticise Spain's Abortion Reform
• Pope Supports Spain's Abortion Reforms