Costa Women Reach 2'500 Members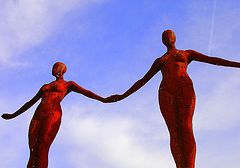 The changing role of women in Spain is highlighted by the fact that expatriate network Costa Women has just welcomed its 2,500th member.
Originally set up to aid females making a life in the Costa del Sol, the resource has spread throughout the entire country and engages more than 6,500 people on social media, reports the Telegraph.
Ali Meehan, founder of the network, told the news provider: "CostaWomen.com helps women navigate their way around Spain - whether it's setting up a business, or retiring, moving here with a family, or travelling alone, creating a forever home, or just as a trial."
It is not unusual for expats to sign up to communities and forums when relocating, as this can help to ease the transition and Costa Women is the biggest of its kind in Spain dedicated to females.
As well as gaining advice and examples of real-life situations from other members, the website provides information on seminars, courses and events to point women in the direction of specialist training for starting up businesses and understanding best practice.
Globalisation has led to 40% of the Spanish workforce now being female, giving expat women the opportunity to capitalise on this and form business and social ties.
While Spain is a popular expat destination, many people realise their pensions will not stretch as far as expected when retiring to the country.
Ms Meehan said: "They are using their business knowledge and skills and putting those back to work, while others are monetising a hobby."
The internet is another force that has done plenty to empower women in Spain, with social media and other sites making it easier to research the country, as well as finding niches in the market that can be filled.
Costa Women would not be able to function without it and today it has 57 different nationalities involved, all with a connection to Spain.
Follow @Costa Women on Twitter