Castellon Airport Could Be For Tourist Use Only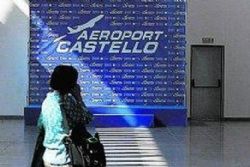 Based upon the details submitted in the tender proposals by each of the 3 companies to express an interest in operating the facility, it is looking increasingly likely that Castellon Airport will become for the exclusive use of Tourists.
One of the 3 companies to have expressed an interest in operating the private airport - Aviation conculting firm Gesnaer - has actually made this issue a focal point of their proposal.
A second interested party, Canadian Company SNC Lavalin, hs also told the press how they are "Interested in working with local authorities and communities to support the local economy".
The Canadian company also has interests in a further 15 Airports around Europe.
Meanwhile, the 3rd company - a consortium which includes Aviation company Airavata - seems to hold the upper hand when it comes to matters concerning tourism in the province of Castellon, as the partnership alo includes the Marina d'Or Hotels Group.
What the newspapers habe not made clear is what each of the three candidates mean by "Tourist use" : A lack of clarity could mean either no Scheduled flights (IE Charter only), but is more likely to mean no freight or commercial traffic being planned for the airport.
Recommended Reading
• Three Bids Submitted For Operation of Castellon Airport