Murcia Concerned Over Sacyr Corvera Airport Payments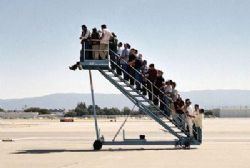 The General Secretary for the PSOE party in the Region of Murcia, Rafael González Tovar, has demanded clarification from the Regional Government as to whether the situation with Sacyr concerning the Panama Canal will hinder the operation of Corvera Airport.
Sacyr are the major shareholder of Aeromur, the former concession holder and construction company behind Corvera Airport, dismissed from their role last year over their inability to secure an opening date for the facility.
Tovar went on to say how the operation of the airport must be "necessary and immediate", and that it should take place before President Valcarcel left office.
For his part the Regional spokesman for the IU-Verdes (Green Party), José Antonio Pujante, also expressed his concern over the difficulties between Sacyr and the contract to construct the Panama Canal. Pujante suggested that any potential financial losses suffered by Sacyr could have an impact on compensation payments due to the Region, and that the people of Murcia would be left paying the bill for the failings of the Government and Aeromur.
Recommended Reading
• Former Corvera Airport Contractor Suffers Further Setback
• Murcia's President Resigns : Corvera Pressures Denied
• Murcia President : "Corvera Airport Will Not Be Abandoned"