Spain Racist TV Show Angers Chinese Embassy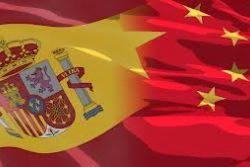 The Chinese Ambassador to Spain has demanded an apology from a TV station that broadcast a show which he claims is insulting to China.
Huang Yazhong wrote a letter to the Chairman of Tele Cinco to protest against a racist sketch which was featured in the channel's New Year Special TV show.
In the show titled "Mesa para Dos" a clown wearing stereotyped Chinese clothes was depicted acting strangely whilst other characters in the sketch insulted the "Chinese Idiot".
The character spoke in broken Spanish and implied the restaurant served dog and cat meat, which Huang said was an obvious reference to a false rumour that a dog's microchip was found in dish at a Chinese restaurant last year.
Huany wrote : "let me warn you: behind the 180,000 Chinese people living in Spain stands 1.3 billion Chinese people from the world's most populous nation and 2nd largest economy!"
"I don't know if the creators of this show are proud and prejudiced or if they made this trashy show just for ratings. But objectively it has already hurt the feelings of Chinese people in Spain and Chinese people around the world. This is an undeniable fact," he wrote. "When wrong, you should change. When you hurt other people, you should apologise."
Huang added that he did not believe most Spanish people enjoyed the "vulgar" show and the 180,000 Chinese people who live in Spain did so in harmony with the rest of the country.
"Perhaps … Telecinco is a commercial TV station and only cares about ratings, so 180,000 Chinese people is a small enough audience to ignore," Huang wrote. "But I would like to draw your attention that behind these 180,000 Chinese people stand another 1.3 billion Chinese people from the world's most populous country and second largest economy! … even if you don't care damaging your country's reputation in China, at least please observe basic civility and the social image of a broadcaster."
Recommended Reading
• Spain "Should Adapt" To Attract Chinese Tourists"
• China Advises Tourists How to Behave in Spain
• Spain Set For Chinese Tourism Explosion