Investors Go Mad For Bankia's Post-Bailout Bond Sale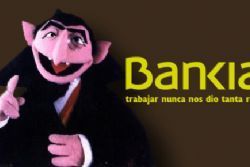 European investors wasted little time buying into Bankia's first public bond offering since its bailout, and have placed some EUR2.75bn of orders for the five-year offering which is expected to price later on Thursday.
The wth largest lender in Spain hired its own syndicate team, Bank of America Merrill Lynch, Commerzbank, Natixis and UBS to market the deal at 250bp area over mid-swaps, before setting official guidance tighter at 240bp area as investor interest swelled.
The bond is likely to offer investors a coupon of around 3.625% and is "already flying," according to a lead.
"This deal will clearly be a step forward for Bankia," said another official involved in the trade.
"After a number of investor meetings last year, Bankia received encouraging feedback for the new Bankia credit and so decided to go a step forward by issuing senior unsecured paper."
In 2013, Bankia posted the biggest loss in Spanish corporate history, taking nearly EUR24bn of provisions on property loans in an attempt to wipe the slate clean.
Having been absent from the public market since 2012, syndicate bankers decided a generous new issue premium of at least 20bp was needed to ensure the success of the deal as the bank lays the ground to shed its state ownership.
They looked to the borrower's 4.375% Feb 2017 senior unsecured bond, bid at mid-swaps plus 198bp on Wednesday, as well as to Spanish and Italian national champions.
"We assumed the difference between three- and five-year debt for Bankia is around 30-35bp, so fair value would be around mid-swaps plus 228bp," said the banker.
Recommended Reading
• Spain to take action against short sales in Bankia
• Spanish regulator to probe Bankia share trading