Spanish Lawyers Consider Allowing Princess Cristina to Testify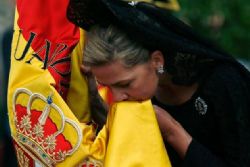 Princess Cristina's defence team is studying the possibility of not appealing the subpoena issued by a Palma de Mallorca judge earlier this week for her to testify in tax fraud and money-laundering proceedings he initiated against her.
Her lawyers are weighing in a decision whether to allow the princess to testify in her own defense on March 8, the date Judge José Castro set aside to question her, the sources said.
After arriving Thursday from Barcelona where she met with her lawyer Miquel Roca, the daughter of King Juan Carlos met with a legal team in Madrid on Friday.
It wasn't clear whether she stayed overnight with her parents at Zarzuela royal palace. A royal family spokesman declined to confirm or deny that she had spent the night, Europa Press reported.
The princess has been targeted in an inquiry stemming from Judge Castro's investigation into the past business dealings by her husband, Iñaki Urdangarin, who is suspected of diverting public money from a non-profit entity, Nóos Institute, he set up to organize special events for regional and local governments.
Specifically, Castro wants to question Princess Cristina about a series of personal expenses she charged to the account of Aizoon, the real estate agency she and Urdangarin co-owned in which anti-corruption prosecutors believe received money diverted from Nóos.
Lawyers for the princess have a Wednesday deadline to file an appeal to quash the subpoena.
Jesús María Silva, one of the members of the defense team, confirmed in Barcelona on Friday that the decision has not been made. "There are some things in life that do not become clear until the final moment," he said. "That is why we have deadlines, so we can think this out."
But it is not only the princess's defense attorneys are pondering about challenging the subpoena. Legal sources told El Pais that anti-corruption prosecutor and attorney general's office are also studying the matter.
The anticorruption prosecutor in the Nóos inquiry, Pedro Horrach, had been opposed in the past to calling in Cristina.
At the same time, Judge Castro, according to sources, met for more than an hour behind closed doors with Jaume Riutord, a specialist in penal law who works in Palma de Mallorca for Roca's law firm.
Recommended Reading
• Royal Couple Failed to Pay €281,109 in Corporate Taxes
• Duke of Palma Causes Further Embarrassment to Spanish royal Family
• Spanish Judge Focuses on Princes Cristina in Fraud Case