Spain's PSOE Take Lead in Opinion Poll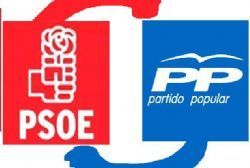 Spain's ruling conservative party has lost the lead to the opposition Socialists, an opinion poll showed on Sunday, as its popularity declines in the wake of austerity measures, corruption scandals and a move to restrict abortion.
The Partido Popular (PP) of PM Mariano Rajoy would win 32% of the vote if elections were held now against 33.5% for the Socialists, the Metroscopia poll published in newspaper El Pais showed.
It is the second time the Socialists have taken the lead in opinion polls since the PP won the last election with an absolute majority in November 2011.
Its popularity has declined amidst high unemployment, currently at 26%, a series of corruption scandals involving senior PP figures and a draft law to restrict abortion announced in December.
The draft law has prompted dissent within PP ranks and protests across the country. It would allow abortion only in the case of rape or if the pregnancy posed a serious physical or mental health risk to the mother.
About 80% of Spaniards reject the plan, dubbed the "Gallardon law" after its architect, Justice Minister Alberto Ruiz-Gallardon, the Metroscopia poll showed, and 86% believe women should have the right to choose.
The law is widely seen as a bid by Rajoy to rally support from core conservatives, but it contrasts with a trend of greater ease of access across Europe after Ireland legalised abortion under limited circumstances this year.
Spain's next parliamentary election is due in 2015.