Rajoy Pushes For Further US Investment In Spain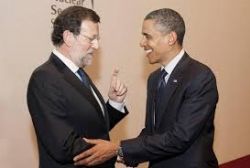 Mariano Rajoy met earlier on Tuesday with the U.S. Chamber of Commerce in a bid to secure an increased level of investment in Spain.
President Obama met with the Spanish PM on Monday, where he expressed his full support for the reforms already implemented during his tenure in office, where he went on to praise Rajoy's "great leadership" in helping Spain struggle through a lengthy and severe economic downturn.
President Obama also noted how Spain still faces great challenges, especially the high level of unemployment, with Rajoy assuring he would continue working to create jobs.
Rajoy's economic reform policies and the performance of Spain's economy - which grew 0.30% in Q4 - will be instrumental in Rajoy's appeal to the USA Chamber of Commerce.
Representatives of several major Spanish corporations and the Spanish Business Council for Competitiveness will accompany the PM on his visit to the U.S. Chamber of Commerce, the world's largest business organisation.
Despite an increase in interest from China over recent years. the USA remains the largest foreign investor in Spain, with the USA also representing Spain's largest destination for exports outside Europe.
Rajoy is expected to speak of his optimisim over the future for Spain's economy, emphasising the improvements that have been seen in the last 12 months.
The PM is scheduled to meet Tuesday afternoon (Eastern Time / CET -6 Hours) with Organisation of American States Secretary-General Jose Miguel Insulza, together with representatives of leading U.S. media outlets, wrapping up his official agenda with a visit to Washington DC.
Mariano Rajoy is also expected to meet with members of the Senate Foreign Relations Committee, whose chairman, Democratic Senator Bob Menendez of New Jersey, was awarded the Great Cross of Isabella the Catholic by Rajoy during a ceremony at the Spanish ambassador's residence on Monday