60.4 Mln Tourists Visited Spain in 2013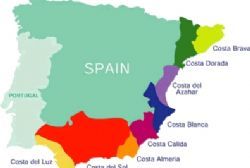 A statement released to the press earlier today by Tourism Association, Exeltur, has reported how a record 60.4 Million Foreigners visited Spain in 2013, making it the 4th most visted country in the world.
The Company Vice President, Jose Luis Zoreda, noted how domestic tourism had plummeted to levels below that of 2004, although there were slight signs of recovery in the last quarter of the year.
Political turmoil in North Africa had helped Spain's tourism industry, with the stability of the country contrasting with the likes of Turkey and Egypt.
Egypt "lost about 2.5 million tourists since June, and curiously Spain saw its tourist arrivals increase by 3 million," he noted.
As with previous years, the UK, Germany and France represented the largest number of visitors, helping to boost figures to 60.4 Million from the 57.7 Million recorded in 2012.
Zoreda went on to maintain that the tourism sector will remain the powerhouse of the Spanish economy, growing by an estimated 1.8% in 2014 - almost triple the 0.7% forecast for the Country's combined economy.
The Ministry of Industry, Energy and Tourism is due to present their figures next week.