British Expat Killed Renovating Property In Spain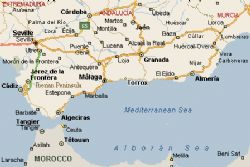 A British man has been killed in a mudslide as he worked on renovating the Spanish home where he planned to retire.
Andrew McGaughey was filling a ditch with concrete at the site near Torrox to the east of Malaga when the ground gave way and he was buried up to his neck, reports indicate.
He was found by a delivery man bringing additional building materials, who immediately called the emergency services, but by the time an air ambulance and paramedics arrived it was too late.
A routine investigation into the accident will be carried out by the local Guardia Civil, but it is thought that heavy rainfall had loosened the earth.
A spokesman for the force in Malaga told the news provider: "Everything is pointing to a freak accident."
The house is positioned on a hill and a large proportion of its foundations collapsed when the mudslide occurred.
Prior to the accident at midday on Tuesday (January 14th), Mr McGaughey had told neighbours he was concerned about cracks that had started to appear in the property's walls.
Gertrudis Van Delf, who lives close by, said: "He'd been saying for some time he was worried about the stability of the house because of subsidence."
The victim had spent Christmas at the house with his girlfriend and when she returned to the UK set about the work to ready the property to be used as a permanent year-round home.
At present it is not known from where in the UK Mr McGaughey was from, but the tragic accident put an end to his dream of a retirement in the sun.
Tumbit would always recommend that any major repairs or refurbishment to property are only undertaken after taking advice from the appropriately qualified professional.