Spain's PSOE Party to Elect New Leader in November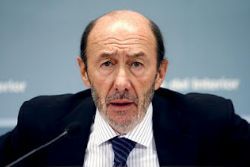 Spain's opposition Socialist party - The PSOE - announced on Saturday that it would select a leader in November to run against the ruling center-right Partido Popular in 2015 parliamentary elections.
The contest will be Spain's first open-door primary by a major party, meaning that any citizen will be able to vote. That marks a shift from the past when the Socialist party alone chose its leader.
"We are opening a new chapter in Spanish politics," said Socialist leader Alfredo Perez Rubalcaba, 62, at a party event on Saturday. "We will celebrate an open primary where all citizens can choose our candidate for the 2015 elections."
Rubalcaba did not say exactly how the voting would work. France's Socialists let any voter who paid a euro and signed a document of support for left-wing principles to participate in its 2011 candidate selection.
Spain's Socialists (PSOE) are gaining ground against the ruling conservative People's Party (PP) as Spaniards tire of spending cuts to meet strict Europe-imposed budget targets during a five-year economic downturn, a recent poll showed.
Corruption scandals and an unpopular move to restrict abortion have also taken their toll. The PP would win 32% of the vote if elections were held now against 33.5% for the Socialists, the January 12 poll showed.
No PSOE members have yet officially announced their intention to stand for election, although a number of prominent Socialists are positioning themselves to run in the primaries.
Potential challengers to incumbent Rubalcaba, who lost 2011 elections to PM Mariano Rajoy, are Carme Chacon, a Catalan former defense minister, Patxi Lopez, former head of the Basque regional government, and Eduardo Madina, another Basque.
Recommended Reading
* Spain's PSOE Take Lead in Opinion Poll
* Spain's Socilialists Try to Lure Back Leftist Faithful