Only One Bid to Buy Spain's Ciudad Real Airport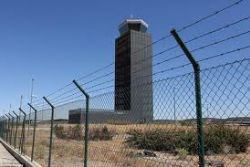 Vistajet - a private charter airline company - yesterday denied reports published in the Spanish press that they were interested in submitting a bid to buy Ciudad Real Airport.
"There is no interest in Vistajet, or owner Thomas Flohr, in buying a Spanish Airport to buy an airport in Spain", a spokeswoman for the company told ABC, in response to a previous article published by the company which suggested that Flor was preparing a bid to purchase the privately owned airport - now in receivership - before the end of January deadline.
The denial essentially means that the only candidate to have publically expressed an interest in buying the facility is Malaga businessman, Jose Ortiz.
Ortiz made a bid to purchase the airport in the first phase of the sale proceedings, before the December 29th deadline, however his offer of €121 Mln was discounted as it did not come with the 5% Bank security deposit stipulated by the administrators.
Following the first unsuccesful sale attempt in December, the administrators secured the approval of the courts to extend the deadline for the sales process to the 24th January.
Ciudad Real Airport - also known as Don Quixote Airport - is located 200 km south of Madrid and initially intended as a "hub" alternative to the airlines, who wanted to offer new routes near the Spanish capital. However, the city of just 75,000 could only attract 100,000 passengers during it's first 3 years of operation, causing econoic troubles ahead of the airport closing in 2012.
The bankruptcy administrator set a minimum sale price of €100 Mln - less than 10% of the cost to build the facility.
The shareholders of the airport - who hold more than €500 Mln debt - include the Deposit Guarantee Fund (FGD), which was forwarded participation of Caja Castilla-La Mancha (CCM) in this infrastructure , and Iberdrola, which holds 9.92% of the airport.
The move represents not only Spain's first privately owned airport (followed by Castellon and Corvera airports), but also the first time Spain has seen the sale of such an airport. Critics of Corvera and Castellon might pose a valid argument as to why it may not be the last.
Read the entire archive of Ciudad Real Airport News by clicking the link > HERE <