Paramount Murcia & Corvera : Anniversary of Broken Promises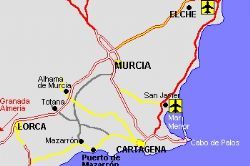 Jesus Samper, President of Proyectos Emblemáticos Murcianos SA (Premursa), met last week with the Regional Confederation of Organisations for Murcia (CROEM), in order to officially present his plans for the Paramount Pictures theme park.
A joint statement issued to the press by Samper and CROEM President Jose Maria Albarracin spoke of the importance of the project for the regional economy, and sought to work together to secure further investment in the project.
Next week also marks 1 year since the Ayuntamiento of Alhama de Murcia opened the plans for the theme park for public review and consultation.
Next week also marks the 2 year anniversary of comments made by Murcia's Minister for Public Works, Antonio Sevilla, where he told la Opinion de Murcia that he was "Aware of the Importance of Corvera and Paramount to Murcia", where he went on to confirm how Corvera Airport would be operational "late June / early July 2012".
Recommended Reading
* Corvera and Paramount : Another Anniversary, Another Broken Promise