Catalan Socialists suspend rebel deputies over referendum vote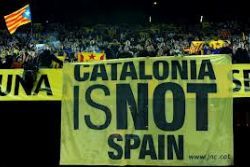 Three Catalan Socialists who broke ranks with their party last week by voting in favour of a request for a referendum on self-rule in the region were suspended from all their duties on Monday. They have not yet, however, been expelled from their party, the PSC, entirely.
The move is a symptom of a profound crisis within the party, with the Socialists more divided than ever over the issue of independence for the northeastern region. The official line is support for a shift toward a federal structure for Spain, rather than independence for any region.
Marina Geli, Joan Ignasi Elena and Núria Ventura defied the party line last week when they voted in favor of a motion in the Catalan regional parliament to ask Spanish Congress for permission to hold a referendum on self-rule for the region. Despite the threats from their party, the three made clear on Sunday that they would not be stepping down.
The decision on their expulsion will be taken this Tuesday, at a meeting of the regional party's leadership, to be presided over by PSC secretary Pere Navarro.
The divisions within the PSC have already affected the primaries to choose a mayoral candidate for upcoming municipal elections in Barcelona. The head of the PSC's municipal group, Jordi Martí, announced that he would be standing as a candidate, but had a warning for the rest of his party: "If there is a single expulsion, I will not be standing," he said. "Impossible!"
Read the timeline of Catalonia's bid for independence by clicking the link > HERE <