Basque Premier Asks Spain For ETA Prisoner Benefits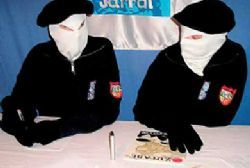 Basque regional premier Iņigo Urkullu wants to meet with the Spanish prime minister as soon as possible to ask him to apply penitentiary benefits to ETA convicts without waiting for the terrorist group to lay down its weapons.
The meeting, which could take place this Thursday, is meant to help Urkullu, of the Basque Nationalist Party (PNV) and Mariano Rajoy of the center-right Partido Popular (PP) find common ground on a deeply divisive issue.
Until now, ETA convicts had refused to apply for sentence-reducing benefits following their leaders' orders, on the basis that they did not recognize the legality of the convictions. But following the release of terrorists with long criminal records because of a ruling from the EU Court of Human Rights, on December 28 the rest of the ETA prisoner community publicly accepted the legality of the Spanish penitentiary system and now seeks to apply for benefits.
This has produced a rift among political sectors who say ETA convicts should not have the right to benefits, and others who feel they do, in accordance with the law.
Meanwhile, the PNV - which, in a first, joined left-wing radicals in a pro-ETA prisoner rally in Bilbao on January 11 - needs to show itself as sympathetic to the cause in order not to lose votes to the radical parties. Urkullu will also be asking Rajoy to transfer ETA prisoners to penitentiaries closer to home, reflecting a longstanding demand by leftist radicals.
ETA announced a permanent ceasefire in October 2011, although it has fallen short of turning in its weapons as demanded by the mainstream parties.
Recommended Reading
Basque Protestors Rally In Support of ETA Prisoners