Spain smashes records with EUR10bn bond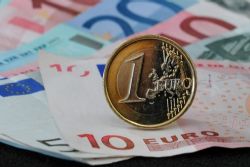 Spain smashed the record for the most amount of orders placed for a European government debt sale on Wednesday, when it priced a new EUR10bn 10-year bond, the country's largest ever issue.
Over 400 investors placed nearly EUR40bn of orders for Spain's new bond sold via a syndicate of banks, beating a record set by Greece back in 2010, and illustrating the frantic appetite that yield-starved investors have shown for peripheral paper in the first weeks of this year.
"Both in terms of size and number of accounts, the interest in this deal is massive," said Philip Brown, head of public sector origination at Citigroup, one of the banks managing the deal.
Lead managers Barclays, BBVA, Citigroup, Goldman Sachs, Santander and Societe Generale initially marketed the bonds at mid-swaps plus 185bp area, but quickly revised guidance to plus 180bp area after EUR22bn orders where placed in the first 30 minutes of the sale. The final spread was set at plus 178bp as interest continued to grow.
The order book for the deal tops the EUR25bn of interest Greece collected for a five-year bond back in January 2010, but falls short of the EUR44.5bn of orders placed for the European Financial Stability Facility's inaugural five-year sale in January 2011.
Spain's new deal easily beats its previous 10-year bond sales in 2009 and 2012 which raised EUR7bn each, putting the country well on its way to issuing EUR133.3bn in medium- and long-term bonds this year, up from EUR128.4bn last year.
The spread on the new bond, maturing in April 2024, was set at mid-swaps plus 178bp, with a coupon of 3.8% and a yield of 3.845%.
Spanish borrowing costs hit their lowest levels since 2006 on Tuesday, and remain hovering around these lows. The current Spain 10-year benchmark touched 3.65%, a yield not seen since Spain was Triple-A rated by all three main credit agencies.
RISK APPETITE
The strong momentum created by Wednesday's deal has seen the country's 10-year borrowing costs tighten over 7bp to Germany during the session. The spread reached around 190bp, although some investors expect it to hit 150bp over the course of the coming quarter, heading back to levels not seen since 2010.
Spain, rated Baa3/BBB-/BBB, emerged from a painful recession in Q3 of last year, prompting rating agencies to take a more optimistic outlook on the country. Fitch lifted its outlook from negative to stable in early November, and both S&P and Moody's swiftly followed suit.
"Up until the final quarter of last year it was prudent not to hold Spanish paper because according to the credit ratings agencies there was still the risk the country could drop into sub-investment grade territory, and there would be forced sellers," said Sandra Holdsworth, investment manager for global government bonds at Kames Capital.
"Now all those investors are coming back, and despite yields being significantly lower, risk appetite has significantly increased."
Like elsewhere in the periphery though, investors' eagerness to seek profit from higher yielding peripheral European debt may override nagging concerns around economic fragility in some of the region's most troubled countries.
Ireland, for instance, won nearly EUR14bn of interest for a new 10-year bond in early January despite concerns about its debt-to-GDP level, which remains one of the highest in the eurozone.
Portugal also collected orders of EUR11bn for a tap of a 5-year bond, despite still being in the throes of an EU/IMF bailout.
In Spain, the biggest problem is unemployment, which still stands at a staggering 25%, while its growth forecast for this year is a fairly tepid 0.7%.
Recommended Reading
* IMF Triples Growth Forecast For Spanish Economy