Spain's public debt above euro-zone average for first time ever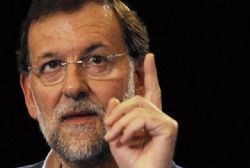 Spain's persistent deficit and the some 41 billion euros it borrowed from its European partners to clean up its banking sector has caused he country's debt/GDP ratio to surpass the average in the euro zone for the first time since the single currency was introduced in 1999.
According to figures released Wednesday by Eurostat, the EU's statistics office, Spanish public debt rose from 92.2% in Q2 of last year to 93.4% in Q1 of 2014, while that of the euro zone as a whole declined from 93.3% to 92.6%, the first fall since 2006. Spain's ratio had already passed the average in the EU in Q2 of last year.
Spain suffered the third-biggest rise in its public debt ratio in the euro zone in the course of the 12 months to September, surpassed only by Cyprus, where it rose 25.3 percentage points to 109.6%, and Greece where it climbed 19.9 points to 171.8%. Spain's debt at the end of September 2012 stood at 79.1%.
In the middle of 2007 before the global financial market crash, Spain's debt stood at 39.1% of GDP, compared with an average of 69.1% in the euro zone. The ratio is expected to climb to over 100%.