Spain's economy picks up, but unemployment rises too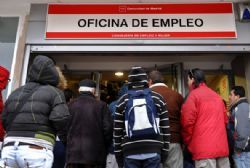 Spain's already crippling unemployment rate inched up in Q4, adding to signs that the labour market will persist as the weakest link in an economy moving on to a sounder footing.
The number of people without jobs fell at the end of 2013 from a year earlier, the first annualized drop in 6 years, according to data from statistics institute INE.
But more than a quarter of a million people left the workforce over the year, meaning the rate of unemployment rose marginally to 26.03% - the 2nd highest in the EU after Greece.
Spain's economy emerged from recession in Q3 with quarterly growth of 0.1% and the Bank of Spain reinforced expectations on Thursday that it was gaining traction.
The central bank said it saw GDP rising 0.3% on a quarterly basis between October and December.
Recent data suggests overall output will expand more than the government's forecast of 0.7% this year, fuelling market appetite for the country's debt and listed shares.
But an upturn in the jobs market remains a distant prospect.
Spain's economy has been in a slump since 2008 when a burst property bubble put thousands of labourers out of work, and the aftershock claimed millions more jobs across the country.
The length and depth of the slump has prompted many long-term unemployed to leave the workforce altogether, either to seek opportunities abroad or return to education.
Spain's workforce shrank last year to 22.654 million, levels not seen since the start of 2008, Thursday's INE data showed. The number of part-time contracts rose while full-time jobs fell, casting doubt on the quality of new jobs being created.
"Job quality, in terms of the type of contract and salaries, continues to fall," Maria Angels Valls, professor of management at ESADE business school, said in a research note.
YEARS WITHOUT WORK
Investors heartened by the brighter economic picture have charged back into Spanish debt over the last year, after pushing Madrid close to taking a sovereign bailout on concerns it could not control its finances.
Its debt yields fell to near 8-year lows on Wednesday as the sale of a new bond drew bumper demand.
PM Mariano Rajoy has pledged that households would soon feel the effects of the turnaround, but for now it is leaving millions of Spaniards in its wake.
Tighter public debt targets have led to deep austerity measures, and evidence is mounting that the jobless rate will not drop significantly for years.
Almost a quarter of all unemployed in the 28-country EU live in Spain, while well over half of Spain's jobless are considered long term having been out of work for more than a year.
Also, 55.1% of under-25s who are available for work have been unable to find a job.
The number of homes in which all members eligible to work cannot find a job rose in Q4 to 1.8 million.
Researchers at the Carlos III University in Madrid expect the unemployment rate to hold above 25% this year before inching down to 24.4% by the end of 2015.
"The estimates highlight that the reduction of the unemployment rate will be slow, despite any possible consolidation in the economic recovery," they said in a note.
The government has forecast net job creation in 2014, but economists at the university said only that job destruction would practically cease while new jobs would be slow to emerge.
SHREDS OF HOPE
The central bank said there were some hopeful signs in the job market. In Q4, the number of employees paying into the social security system rose 0.4% from the third, the first rise since early 2008, driven by the services sector and agricultural jobs.
Spanish companies have also been hailing a turnaround in business levels in recent months after years of downsizing, with Banco de Sabadell, Spain's 6th-biggest bank, reporting profit tripled last year.
Companies outside Spain have started to pour investment back into the country, notably Latin American ones in areas such as banking, travel, food and other consumer-related sectors.
However, the renewed fervour is likely to take time to feed through in to the working population.
"There's a difference between Spanish companies' optimism over the jobs' market recovery and the reality," said Juan Urdiales, co-founder of social media recruitment website Jobandtalent.
"They'll say that 2014 looks better, but when you ask them if they plan on hiring this year, they'll say, 'no, no, no, our plans are the same as last year.'"