New Ciudad Real Airport Owner to be Advised Monday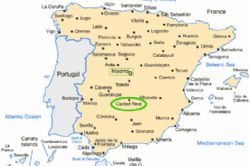 Phase I of the sale process for Ciudad Real Airport ended at 1:30 pm on Friday, after the original deadline had been extended to allow interested parties time to secure the bank security guarantee required by the administrators of the bankrupt facility.
Whilst is has been reported that a bid has been submitted by Malaga-based businessman, Francisco Jose Ortiz, to purchase the airport for the sum of €121 Mln - secured with a €15.5 Mln guarantee - any further expressions of interest will not officially be made known until Monday morning.
Elsewhere yesterday the President of Castilla la Mancha, Leandro Esteban, told the press of his optimism that the airport would open soon, and of how Ciudad Real Airport is an important asset to the region, which would contribute enormously to the local economy.
Recommended Reading
* Spain's Ciudad Real Airport : Bidding Closes Friday 24th Jan