Outsourced Air Traffic Control Takes Effect at Alicante Airport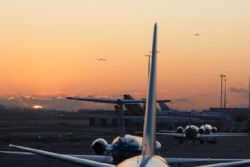 Alicante -Elche Airport last week saw the appointment of Ferronats as the new service provider for all control tower operations.
Four of the 12 Air Traffic Controller employed by the company were previously employed in the same role by AENA, the remaining 8 professionals have been relocated from other locations.
Ferronats is a joint venture between Spanish Construction company Ferrovial and NATS, the UK provider of air navigation services, and is one of the private companies to have been certified by the State Aviation Safety Agency (EASA ) as a provider of various services at Alicante-Elche Airport.
All staff have been based at the Airport since April 2013 to ensure a full and seamless handover of operations.
The scope of operations outsourced to Ferronats for the duration of their 5 year contract, covers the control of aircraft approaching the airport, the movement of all aircraft on the ground and take-off manoeuvres.
The move to outsource control tower operations through the restructuring of AENA with the intention of improving levels of service and effciency was approved by the Ministry of Development in December 2010.
Besides Alicante -Elche Airport, Ferronats also operates control towers at Sabadell, Madrid -Cuatro Vientos, Vigo, Jerez, La Coruna, Valencia , Seville and Ibiza.
Ferrovial has experienced mixed fortunes over recent weeks : They were awarded the contract to construct phase I of Murcia's Paramount Pictures Theme Park in December to the value of €52 Million. However, just last week the company saw their share price fall 2.7% following speculation that the Spanish Government would not bail-out struggling toll-roads owned and operated by a number of private companies such as Ferrovial.
Recommended Reading
* A Leap Forward For Paramount Murcia
* Spain Said to Reject State Roads Guarantee to Shield Budget