Google Dominates Spanish Smartphone Market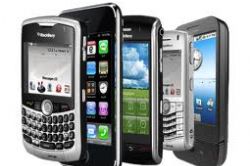 Google's Android smartphone continued it's domination of the Spanish market in the final quarter of 2013, according to information released by Kantar Worldpanel ComTech.
Google's 86.2% market share represents a marginal year-on-year growth of 0.3% and contrasts with the decline in the popularity of i-Phones which fell by 0.6% to 6.7%.
The market share of Smartphones powered by Apple's iOS technology in Spain now stands at levels way below those seen in the likes of France, Germany and Italy, where they account for 10% of all sales.
In the UK Apple hold a market share of almost 30%.
The only provider to experience significant growth in Spain last year was Microsoft's Windows Phone, which managed to increase market share from 1.2% to 5.6% in just 12 Months.
As in other European countries, BlackBerry's share dropped to a negligible 0.2% of the Spanish market, down from 2.4% in the same period of 2012.
Recommended Reading
* China Launches Economy Smartphone in Spain
* i-Phone Market Share in Spain Decimated
* Blackberry Market Share in Spain Plummets