Expat Scots threaten legal action over referendum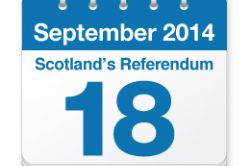 A Scottish trainee lawyer who lives in London is leading the charge to try and secure the vote for the upcoming referendum north of the border.
James Wallace is one of some 1.5 million Scots who will have no say over the independence of their country, because they will not be resident in it at the time of the ballot.
Scotland has a population of 5.2 million and around 80% of them will be over 16 on September 18th and therefore eligible to vote.
Some 800,000 Scots live in the rest of the UK and there are also large groups living as expatriates in the likes of the USA and Canada, none of whom will qualify to put an opinion across about staying or leaving the union.
Mr Wallace told Reuters: "It's ridiculous, quite frankly, that Scottish soldiers based in England, ten out of 11 Scottish Olympians and international rugby players who played for Scotland all their careers, cannot vote."
He says he plans to launch legal action over the issue and is looking his fellow expats for support.
EU law specialist Aidan O'Neill is helping to advise Wallace as he believes there is a case in both Scottish and European legislation that not allowing expat Scots to vote would infringe their citizenship and legal rights.
He told the news provider: "The decision to exclude the Scots born non-resident [is] unlawful as a matter of common law, and contrary to fundamental common law constitutional rights implicit in any modern European democracy."
Other expats have underlined the fact that even though they live abroad, they still consider Scotland their home and could return at any time, so the independence issue would affect them first hand.
There are also people who were born outside of Scotland and do not intend to stay for a long period of time who are included in the ballot.
Scotland has been united with the UK for 307 years, so September's vote could be a historic occasion, depending on the outcome.
Further Reading :
* Spain Sabotaging Independent Scotland Referendum
* Spain to Veto EU Membership of Independent Scotland