Thousands protest in Brussels on planned anti-abortion law in Spain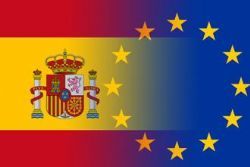 Demonstrators staged a protest outside the Spanish Embassy in Brussels. Organisers said there was a crowd of over 2,000 to show their opposition to proposals to reform the abortion law in Spain.
The new measures which the conservative government has approved will outlaw abortion except in certain cases where a woman's health is at risk.
"This law doesn't respect the minimum rights that other laws in Europe do. This law treats women like we are minors," said one demonstrator while another added: "What we are asking the Spanish government today is to review the bill that it intends to make law to ensure the right to abortion isn't restricted as it is in the proposal."
The protesters marched from the embassy to the European Parliament in an attempt to get Spanish MEPs to put pressure on their government. The march attracted activists from beyond Spain.
"I'm here today because we have a very similar situation in Lithuania, currently in the parliament there is an abortion ban bill being decided," said Lina Vospliute from Lithuania. A further demonstration is planned in front of the Spanish Embassy in Paris on Saturday which the protesters are calling 'The World March of Women'.
It's not clear when the new law will be put before parliament where Mariano Rajoy's Partido Popular has an absolute majority.
Read the entire archive of Spain's proposed abortion reforms by clicking the link > HERE <