Murcia Does U-Turn Over Corvera Airport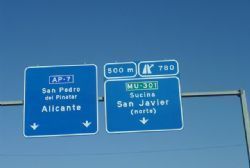 Murcia's President Valcarcel has suggested that the Regional Government and Aeromur - the former concession holder of Corvera Airport - resolve their differences.
Valcarcel, due to leave office in the next few months to stand as a candidate in the European elections, has openly commented how he would like to see the Airport open quickly and sees former partners Aeromur as the best chance of this happening.
This signifies a complete u-turn in Murcia's stance over the company's inability to bring the facility into operation over recent years.
Earlier on Thursday representatives of the regional government and SACYR - the majority shareholder of Aeromur - began negotiations in an attempt to agree a way forward, where sources confirmed that "progress has been made" and that "everything is back on track to open the airport".
However, there is still a question over the €200 Mln debt held by the region from their decision to remove Aeromur from their contract. This - together with SACYR's subsequent legal action against Murcia for their dismissal will need to be amicably resolved before any working relationship can continue.
SACYR was originally appointed as the main contractor of Corvera Airport in July 2007, with the agreement being officially terminated on September 16th 2013.
If a suitable settlement can be agreed upon, and terms of a new contract can be negotiated, President Valcarcel might be in a position to leave office without the stigma of having achieved the sum total of absolutely nothing at Corvera during his administration.
Further Reading :
* Murcia Concerned Over SACYR - Corvera Airport Payments
* Corvera Airport Unlikely to be Open Summer 2014