Spain to seek advisers on Bankia stake sale next week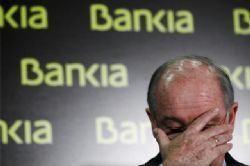 Spain will next week formally seek advisors to steer the sale of part of its 68% stake in bailed out lender Bankia, a spokeswoman for the country's bank restructuring fund FROB said on Friday.
Government and banking sources had told Reuters earlier this month the Spanish government was considering selling a stake of as much as 18% during the first quarter of this year, aiming to start recouping part of the €22 Bln injected into the bank since 2012.
Bankia became a symbol of Spain's financial crisis, after the huge losses it and other banks suffered due to a property market collapse forced the government to take €41.3 Bln in European aid to rescue the country's weakest lenders.
A source with knowledge of planning at the economy ministry and the FROB said the state would likely follow in the footsteps of UK Financial Investments, which first sold a 6% stake in Lloyds in September and is now looking at selling more, possibly including a sale to retail investors.
At the current market price, a stake of 18% in Bankia would be worth about €2.7 Bln. Under a Europe-agreed restructuring plan, the state has until 2017 to exit the ownership of the bank.
Read the timeline of the Bankia Collapse to Rescue archive by clicking the link > HERE <