Spain prices rise less than expected January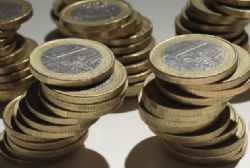 Spanish consumer prices rose slightly less than expected in January, preliminary data showed on Friday, although they remained high enough to dampen speculation about deflation, a key concern for the ECB.
The harmonised index for consumer prices, the measure used by the ECB, rose by 0.3% year-on-year in January, data from the National Statistics Institute (INE) showed.
That compared with a Reuters forecast of 0.4% and was unchanged from a month earlier.
Spain's consumer price figure comes ahead of the January inflation reading for the euro zone as whole, due at 1000 GMT and expected to show a rise of 0.9% year on year.
On Thursday, Germany reported its annual inflation held steady, defying expectations of a slight acceleration.
The ECB, which has forcefully underlined its determination to act should a deflation risk arise in the euro zone as a whole, will hold its monthly meeting next week.
"I don't think the ECB is in any hurry to do anything on rates," said Citi economist Guilluame Menuet.
"They're biding their time for now. If there is to be a considerable undershoot to inflation, then they will act, but it's difficult to think this would be on the table next week."
With euro zone inflation running well below its target of just under 2%, the ECB has said it would act if necessary to avert deflation or if climbing money market rates threatened the bloc's fragile economic recovery.
The fall in inflation rates is related to an overall economic adjustment and restoring of competitiveness of Europe's southern periphery countries, where growth collapsed during the crisis and triggered a massive austerity push.
ECB President Mario Draghi has said he expects a prolonged period of low inflation but with no immediate risk of deflation.
Any sign of deflation or further disinflation would raise pressure for another rate cut or some unconventional move.
In a Reuters poll, analysts saw rising money market rates and a stronger euro as a trigger for the ECB to cut interest rates further, although not soon.
INE data also showed Spain's national consumer price index rose by 0.2% in January on an annual basis, down from 0.3% in December.